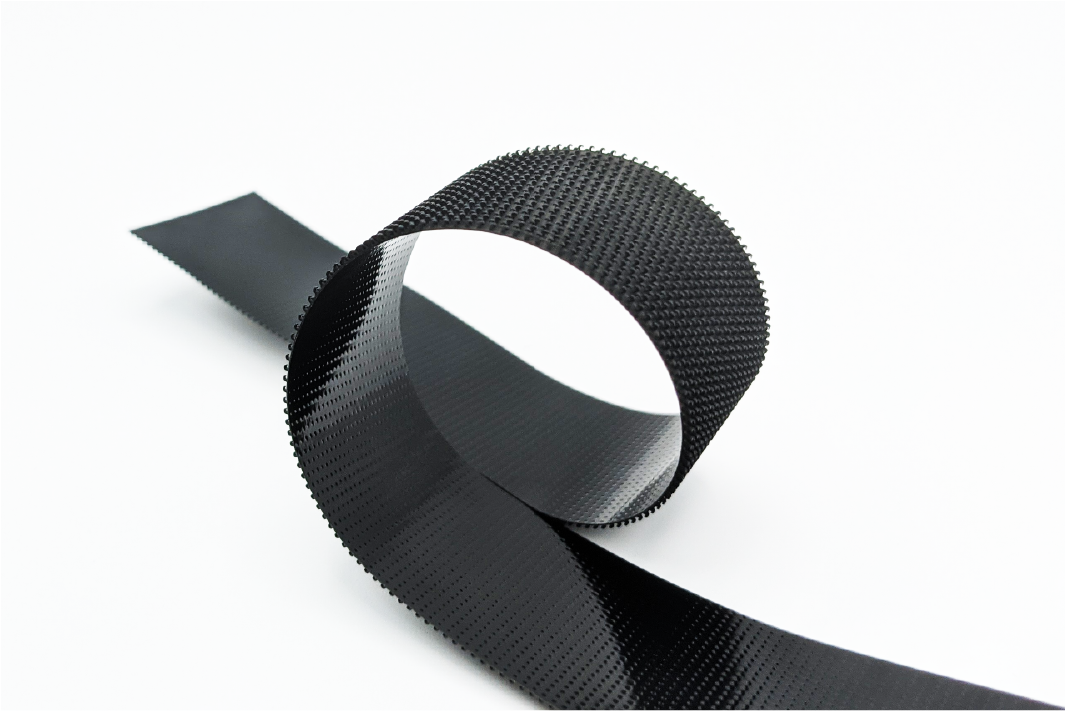 ---
Type 3 Molded Hook
Halco's type3 molded hook provides a low-profile fastening solution that engages with a variety of woven, knit, and non-woven materials. This fastener exhibits a strong shear strength which means it's suitable for many applications including medical, automotive, display & print, and industrial.
Market
Transport
Medical
Industrial
Display & Graphics
Product Technical Data
Halco's type3 molded nylon hook fastening tape is available in 1/2″ – 12″ widths. This product can be slit to any custom width.
This product has a plain back for sew-on applications.
This hook fastener is available with a variety of backings including adhesive, fabrics, suede, and loop materials (Back2Back).
| | |
| --- | --- |
| TYPE3 MOLDED HOOK | HOOK (LPBH100-TY3) |
| Construction | Extruded Plastic |
| Material | Nylon |
| Hook Height | 0.028″ (0.7mm) |
| Melting Point | 215ºC (419ºF) |
---
APPLICATIONS
Industry Standards and Certifications
REACH & RoHS Compliant
CALIFORNIA PROP 65
Fastener is also available with a FR coating to meet FAA & FMV specifications.
See It IN Person
Request a sample of this product to test the material and make sure it's a perfect fit for your application.
---
Customize this product
Product Code Search
Use the filters below (width & color) to view popular stock sizes and their related part numbers.
If you can not see what you are looking for, don't hesitate to reach out and speak with a Halco representative to discuss your needs.
Filter:
| Product Code | Width | Length | Color | Description |
| --- | --- | --- | --- | --- |
| LPSBH12-TY3 | 1/2" | 55 YD | Black | Type3 Molded Hook Plain-Back |
| LPSWH12-TY3 | 1/2" | 55 YD | White | Type3 Molded Hook Plain-Back |
| LPSBH58-TY3 | 5/8" | 55 YD | Black | Type3 Molded Hook Plain-Back |
| LPSWH58-TY3 | 5/8" | 55 YD | White | Type3 Molded Hook Plain-Back |
| LPSBH34-TY3 | 3/4" | 55 YD | Black | Type3 Molded Hook Plain-Back |
| LPSWH34-TY3 | 3/4" | 55 YD | White | Type3 Molded Hook Plain-Back |
| LPSBH100-TY3 | 1" | 55 YD | Black | Type3 Molded Hook Plain-Back |
| LPSWH100-TY3 | 1" | 55 YD | White | Type3 Molded Hook Plain-Back |
| LPSBH112-TY3 | 1 1/2" | 55 YD | Black | Type3 Molded Hook Plain-Back |
| LPSWH112-TY3 | 1 1/2" | 55 YD | White | Type3 Molded Hook Plain-Back |
| LPSBH200-TY3 | 2" | 55 YD | Black | Type3 Molded Hook Plain-Back |
| LPSWH200-TY3 | 2" | 55 YD | White | Type3 Molded Hook Plain-Back |
| LPSBH400-TY3 | 4" | 55 YD | Black | Type3 Molded Hook Plain-Back |
| LPSWH400-TY3 | 4" | 55 YD | White | Type3 Molded Hook Plain-Back |
| LPSBH600-TY3 | 6" | 55 YD | Black | Type3 Molded Hook Plain-Back |
| LPSWH600-TY3 | 6" | 55 YD | White | Type3 Molded Hook Plain-Back |
| LPSBH1200-TY3 | 12" | 55 YD | Black | Type3 Molded Hook Plain-Back |
| LPSWH1200-TY3 | 12" | 55 YD | White | Type3 Molded Hook Plain-Back |