hook and Loop Straps
Custom Printed, Styles, Uses, Sizes & More
---
Custom FABRICATED STRAPS
Halco is a market leading manufacturer and fabricator of custom hook and loop straps for a wide variety of applications and markets, including sewn and welded straps for:
Medical, sports and fitness-related products
Military and first responder
Cable management
Agriculture and heavy machinery
Construction
Display and exhibit
Tents, awnings and shelters
and a wide variety of general industrial uses
The most common types of straps are hook and loop cinch straps, back straps, face straps, and double face straps. You could also consider a die-cut hook and loop cable tie to be a type of strap.
Hook & Loop Strap designs
Halco has been fabricating custom hook and loop straps for its customers for over twenty years. Because of the breadth of our product line, our responsive service and converting capabilities, Halco's straps are often evaluated as an alternative to custom Velcro® straps. Take a look at the different constructions of our straps and their unique features, then tell us about your unique needs. Halco is sure to have a solution!
VELCRO® is a trademark owned by Velcro Companies.
---
Back strap
A back strap has a short piece of hook that is sewn or welded to a longer strip of loop to form a cuff or band. These hook and loop back straps are typically used for bundling of cable, wire, hoses, and thin tubing. When the strap is wrapped around the bundle, the loop faces up, the strap is pulled tight and the hook is pressed down onto the loop to secure it. Halco's Back2Back hook and loop strap tape is often used for back strap fabrication.
---
Face strap
Face straps are different in that the hook material (the shorter length) and loop (long length) are welded or sewn both facing in the same direction. Unlike a back strap that is coiled into a cuff or band when secured, a face strap is shaped into a "U" and then secured onto itself. This kind of strap is often used for hanging materials (like a cable bundle) and may feature a grommet. Our Mixed Woven Hook and Loop material is ideally suited for face straps.
---
Double face strap
A double face strap consists of a length of loop facing up with smaller pieces of hook secured on both sides. This type of strap might be used to secure hoses or hold two skis together.
---
Cinch strap
A hook and loop cinch strap provides the highest shear strength by featuring a plastic or metal buckle on one end of the loop strap and hook on the other. The loop portion is sewn or welded around the buckle. The strap can be wrapped around the bundle, the loop side inserted through the buckle, then pulled tight and secured. These kinds of cinch straps can be made for both light and heavy-duty uses. For heavy-duty straps, a metal buckle is used and webbing can be used to reinforce the hook and loop material.
---
Die-Cut Strap
A die-cut strap uses a self-engaging back-to-back hook and loop material with a hook on one side and a loop on the other. One side of the strap is wider with a small slot cut into it. The other side is cut to an angle point. The strap is wrapped around the bundle or object, then inserted through the slot, pulled tight, and secured back onto itself. These die-cut straps are frequently used to secure cable bundles and wire harnesses and are an alternative to plastic cable ties.
Design a Custom Strap with Halco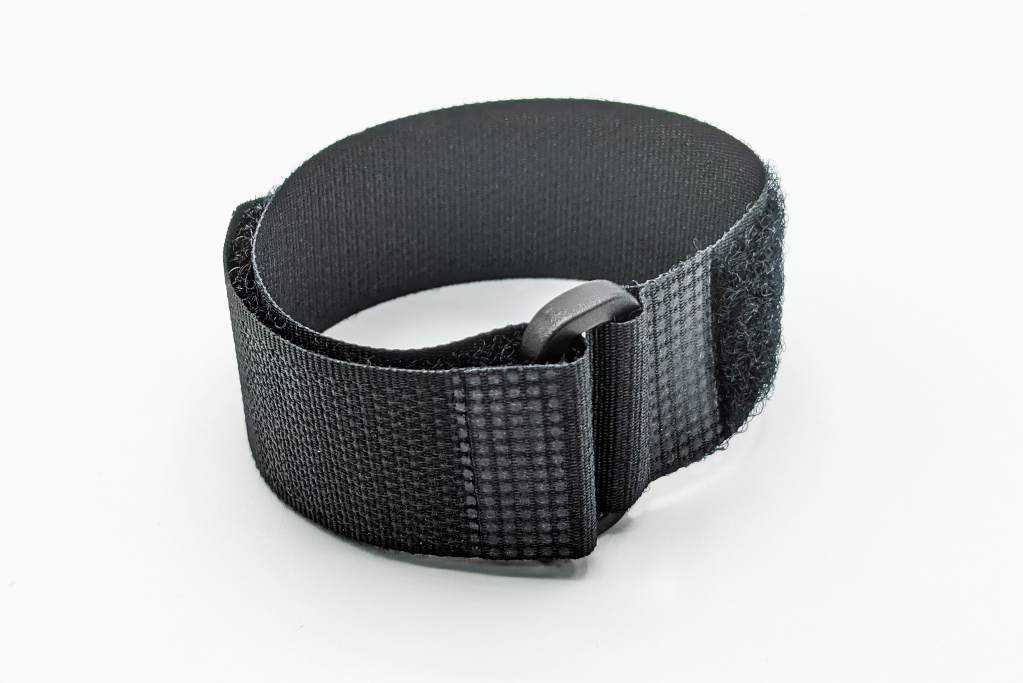 Do you have a product or project that needs a custom hook and loop strap? Do you have questions about strap designs or fabrication? We've been making straps now for over 25 years and would love to answer your questions. Take a look at various designs of straps below and then let us help you move forward!
---
Custom Strap Solutions
There are endless variations of these hook and loop straps and additional ways to customize them. Some customers, who prefer stronger straps, may ask to have polypropylene, nylon, or polyester webbing material sewing into them. Customers in the medical, sports or personal care markets may need straps to be made out of stretchable elastic loop material. Consumer products, retail, and other highly branded companies might want custom printing done on either the hook or loop materials. Hardware features may include a grommet or a buckle.