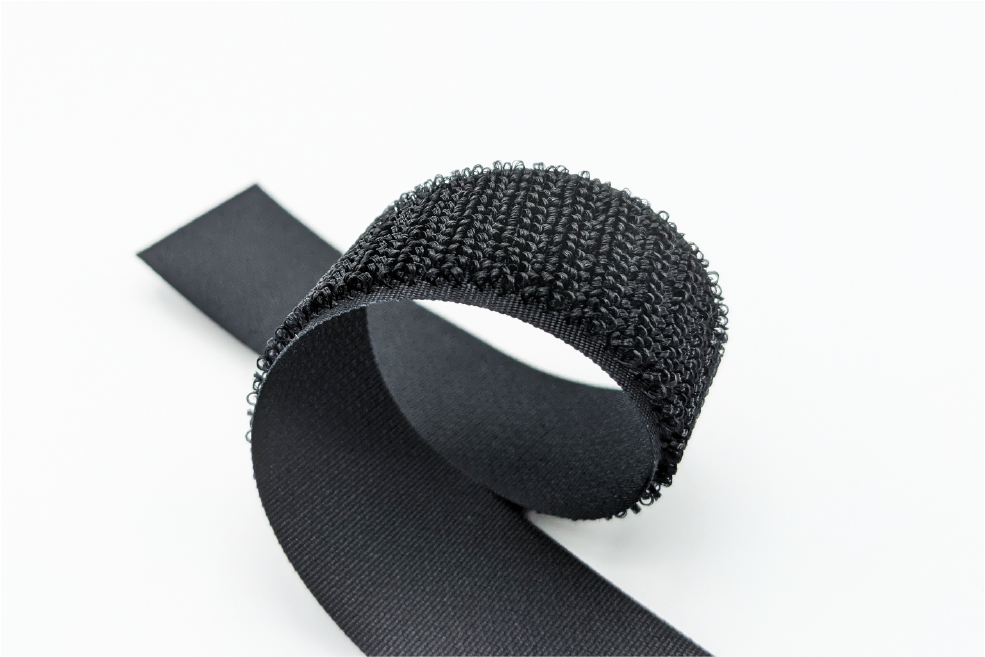 ---
Unnapped Loop
Halco's unnapped loop is an unbrushed loop material for high cycle life applications. Designed to 'never wear out', unnapped loop is a favorite with apparel designers, medical device manufacturers, and sporting goods fabricators. This fastener exhibits an easy-peel but has a high cycle life with an excess of 10,000+ peels without any blowout or loop damage when paired with Halco's soft nylon woven hook.
Product Technical Data
Halco's unnapped woven loop fastening tape is available in 5/8″ – 6″ widths. This product can be slit to any custom width.
Unnapped loop won't clog or attract lint and has quick-drying properties.
This product has a plain back for sew-on applications.
This fastener has a woven selvedge edge on each side to help avoid fraying.
| | |
| --- | --- |
| UNNAPPED WOVEN LOOP | LOOP |
| Construction | Woven |
| Material | 100% Nylon |
| Thickness | 0.11″ (2.8mm) |
| Melting Point | 210 °C (410 °F) |
---
APPLICATIONS
Industry Standards and Certifications
REACH & RoHS Compliant
CALIFORNIA PROP 65
This fastener is also available in a

Flame Retardant

version that meets FAA & FMV specifications.
See It IN Person
Request a sample of this product to test the material and make sure it's a perfect fit for your application.
---
Customize this product
Product Code Search
Use the filters below (width & color) to view popular stock sizes and their related part numbers.
For custom widths and colors, speak with a Halco representative to discuss your needs.
Filter:
| Product Code | Width | Length | Color | Description |
| --- | --- | --- | --- | --- |
| USBL34 | 3/4" | 27.5 YD | Black | Unnapped Woven Loop Tape Plain-Back |
| USWL34 | 3/4" | 27.5 YD | White | Unnapped Woven Loop Tape Plain-Back |
| USBL100-50 | 1" | 50 YD | Black | Unnapped Woven Loop Tape Plain-Back |
| USWL100-50 | 1" | 50 YD | White | Unnapped Woven Loop Tape Plain-Back |
| USBL112-50 | 1 1/2" | 50 YD | Black | Unnapped Woven Loop Tape Plain-Back |
| USWL112-50 | 1 1/2" | 50 YD | White | Unnapped Woven Loop Tape Plain-Back |
| USBL200-50 | 2" | 50 YD | Black | Unnapped Woven Loop Tape Plain-Back |
| USWL200-50 | 2" | 50 YD | White | Unnapped Woven Loop Tape Plain-Back |
| USBL300-50 | 3" | 50 YD | Black | Unnapped Woven Loop Tape Plain-Back |
| USWL300-50 | 3" | 50 YD | White | Unnapped Woven Loop Tape Plain-Back |
| USBL400-50 | 4" | 50 YD | Black | Unnapped Woven Loop Tape Plain-Back |
| USWL400-50 | 4" | 50 YD | White | Unnapped Woven Loop Tape Plain-Back |
| USBL600 | 6" | 27.5 YD | Black | Unnapped Woven Loop Tape Plain-Back |
| USWL600 | 6" | 27.5 YD | White | Unnapped Woven Loop Tape Plain-Back |