Many manufacturing-related industries in the United States are starting to feel a slow, tepid recovery. The automotive market, and particularly demand for electric vehicles, was hit quite hard during the 2nd quarter of the year.
However, the medium and longer-term growth prospects for electric vehicles are quite bright, driven primarily by consumer demand. Many consumers love the whisper-quiet ride, driving performance, rich array of technological features, and zero-emission features of electric vehicles.
The demand for these features is impacting the mix of vehicles sold and the automotive supply chain by segment. A study by Deloitte shows that the high growth rates of components related to the electric vehicle market.
Projected segment market size
In billions, USD, 2018 vs. 2025
Source: Deloitte
The Challenge of NVH in Electric Vehicles
The rapid growth of the electric vehicle market and some of its components present opportunities for tier suppliers, materials companies, and specialty converters to solve specific engineering challenges. One of the most notable and important challenges is the mitigation of Noise, Vibration, and Harshness, known as NVH. Although there are specifically designed engineering measurements of NVH, the simplest definition is that Noise is what you can hear, Vibration is what you can feel and Harshness relates to the bumps and thumps that impact the cabin. In other markets and with other types of products, this is also referred to as BSR (Buzz, Squeak, and Rattle).
Electric vehicles present an OEM's design engineering team with some very unique challenges as it relates to NVH. An electric vehicle does not have the sound of an internal combustion engine to drown out many other noises. Also, electric engines can sometimes have a high pitched whine and may need electric fans to cool the batteries. Reducing the NVH in a vehicle requires that engineering focus be applied to:
Engineered Materials for NVH Mitigation
Engineers responsible for electric vehicle design and manufacturing often use specialty engineered foams, flock, nonwovens, and composite materials to damp sound and vibration around the passenger compartment of the vehicle.
Some of these materials can be formed into smaller parts to plug holes in panels and or fitted into brackets to reduce the vibration of various mounts.
Another method to reduce NVH is for an automotive materials manufacturer to create larger insulative parts that surround the motor, wheel basins, and passenger compartment. Examples include insulative parts for:
door panels

headliners

flooring panels and carpet

dashboards and tray systems

trunks and cargo areas

wheel guards

motor compartments / engine hoods
Attachment Systems for Acoustical and Thermal Insulation
These insulative parts require an attachment system that supports the high productivity manufacturing demands of electric vehicle OEMs while minimizing tooling and hole alignment. This is where the power of the Halco and its partnership with 3M comes into play. Halco provides a wide selection of high-performance hook and loop materials and die-cuts the selected material on a peel-away liner to make attachment on the production line quick, simple, and without the hassle and quality issues associated with tools and the hole alignment needed for mechanical fasteners. An overview of Halco's converting capabilities is found here: https://www.halcousa.com/converting-capabilities/
Halco has its own line of engineered adhesives, in both rubber and acrylic, though Halco will often laminate high-performance adhesives tapes from 3M to its fastening materials to meet various automotive specifications. Many of these adhesive tapes are specially formulated to adhere well to porous insulative materials and to painted or oily metals or low surface energy plastics, making them a perfect choice for automotive assembly.
A good example of this is 3M's 6038PC adhesive tape. Halco stocks 3M's 6038PC tape and uses it frequently in automotive applications. 6038PC is a perfect choice for electric vehicle interiors because:
3M 6038PC meets automotive OEM fogging specifications

It provides an excellent bond to a wide variety of surfaces, including challenging substrates like porous insulative and acoustical materials and low surface energy plastics

It has a high initial tack for quick for secure attachment on the assembly line

And offers high-temperature resistance to withstand environmental conditions normally associated with automotive interiors (-40F to 250F)
A Partnership for Responsive Engineering Support
What makes this partnership between Halco and 3M so compelling is Halco's ability to provide fast, responsive engineering support and customize fastening materials to the OEM's design and manufacturing requirements, while also providing a high-performance adhesive system that is already proven in the industry. Halco can literally get a prototype part out to a customer in days while working through all the requirements necessary to move the solution into final production. Electrical vehicle OEMs and acoustical material tier suppliers trust Halco to work with them on their NVH projects.
Do you have a project needing the reduction of noise and vibration? Tell us more about your NVH, BSR and damping needs and get a free sample kit.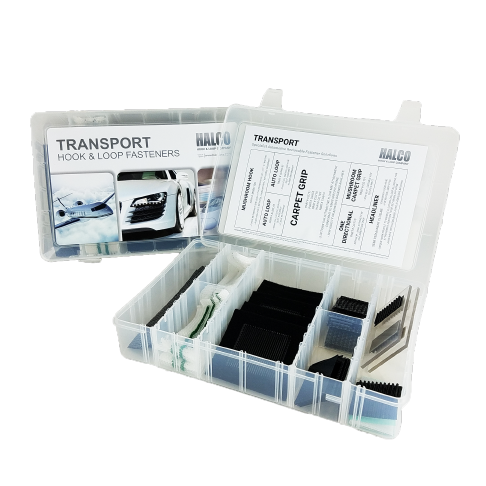 Tell us about your project and request our free design kit with hook & loop samples used in the automotive industry.