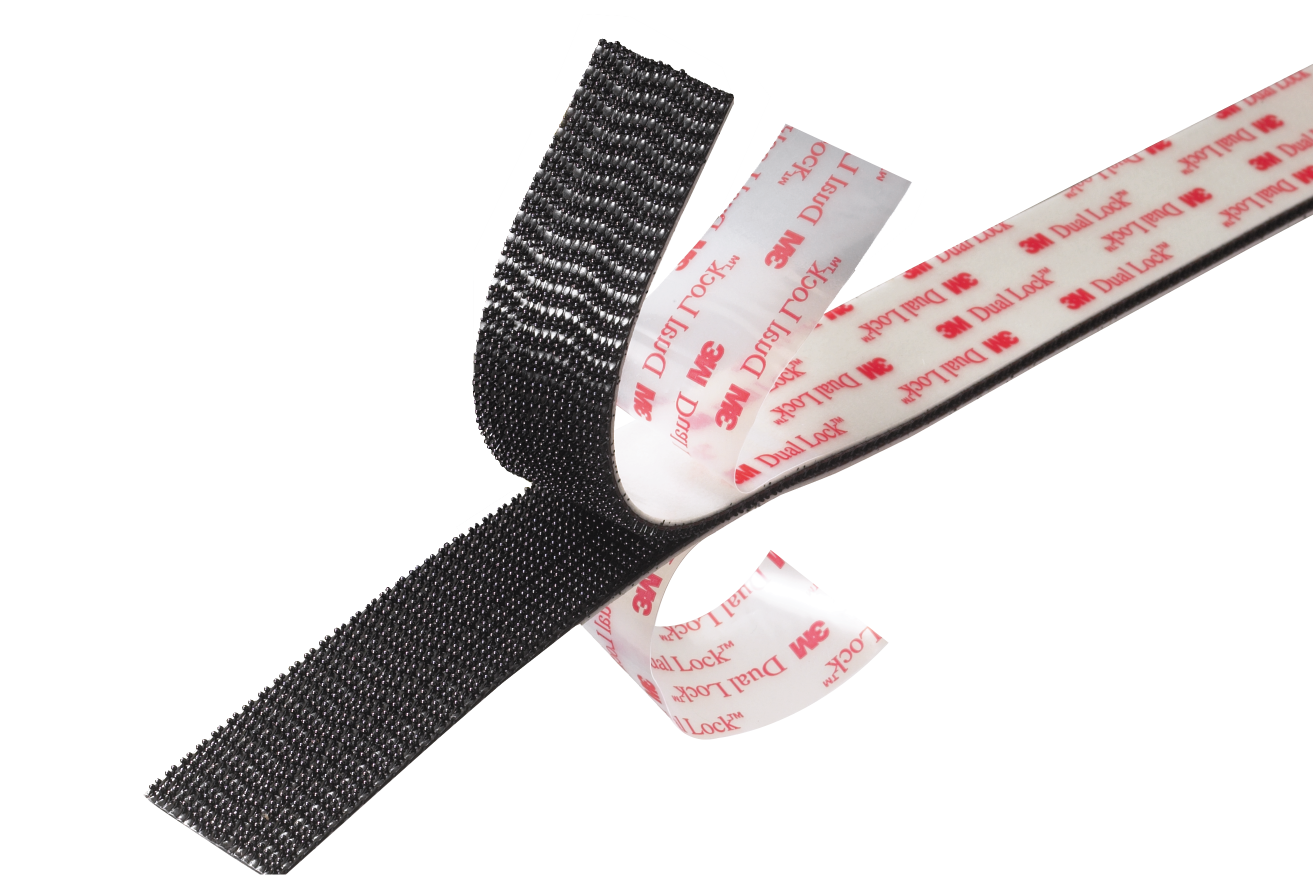 ---
3M™ Dual Lock™ reclosable fasteners
3M Dual Lock is a unique reclosable fastener with a VHB clear acrylic adhesive tape for mounting. It features strong, interlocking mushroom-shaped heads that slide past each other and snap with high closure strength, but then can be reopened, making it perfect for attaching access panels, architectural panels, various vehicle components, portable devices like highway transponders or mobile cameras, as well as panels for signs, exhibits and displays. These 3M snap fasteners make an audible click when attached, giving the installer or assembly worker the confidence to know that the part has been securely attached.
Halco's value to customers who use Dual Lock in their assembly process is our knowledge, expertise and converting capability. We have many years experience converting Dual Lock and know how to cut 3M Dual Lock tape into more usable strips, circles and die-cut shapes that fit our customer's product design, manufacturing process and deliver the closure strength they need per square inch. In this way, we help our customers improve their quality and productivity when using 3M Dual Lock as an attachment system.
Market
Transport
Industrial
Display & Graphics
---
Dual Lock Features
Interlocking mushroom-shaped heads have five times the tensile strength of hook and loop products
Durable — open and close up to 1,000 times before losing 50% of original tensile strength
Temperature, moisture and UV resistant
Different stem densities are available to create different closure strengths.
Dual Lock products using a 250 stem density are self mating. Dual pairing a 250:170 stem density have lesser closure strength while a 250:400 pairing has high closure strength
VHB pressure-sensitive adhesive easily forms a powerful bond
Easy to apply and maintain, easy to clean out dust or debris
Helps reduce vibration
Low profile Dual Lock option is approximately half the thickness of standard 3M™ Dual Lock Reclosable Fastener
---
Dual Lock Die Cutting & Converting
Halco is an expert at Dual Lock die-cutting and can cut specific shapes very efficiently to match your design. We've learned how to effectively convert Dual Lock reclosable fasteners without damaging their interlocking mushroom heads and can convert both mated and unmated pieces, including both strips and coins.
3M™ Dual Lock™ PRODUCT SELECTION
Product Family
Adhesive Type
Substrates
Type 170
Type 250
Type 400
SJ3540 (Black)
Rubber-based
Indoor Use with:
Aluminum, Stainless Steel, Acrylic, PC, ABS, Powder Coated Paints, Polypropylene
SJ3542

SJ3540

SJ3541

SJ3550 (Black)
Conformable Acrylic
Indoor/Outdoor Use with:
Aluminum, Stainless Steel, Glass, Acrylic, PC, ABS
SJ3552

SJ3550

SJ3551

SJ3560 (Clear)
Firm Acrylic
Indoor/Outdoor Use with:
Aluminum, Stainless Steel, Glass, Acrylic, PC, ABS
SJ3562

SJ3560

SJ3561

SJ3870 (Black)
Conformable Modified Acrylic
Indoor/Outdoor Use with:
Aluminum, Stainless Steel, Acrylic, PC, ABS, Powder Coated Paints
SJ3872

SJ3870

SJ3871

For thinner applications, see our 3M Dual Lock low profile reclosable fasteners including: SJ4570 (clear, indoor use), SJ4575 (black) and SJ4580 (clear, indoor/outdoor use).
---
selecting the right dual lock stem density
One of the many benefits of Dual Lock is that it is self-engaging and makes an audible snap with it is engaged or disengaged. The Dual Lock products that end in zero have a wavy stem pattern that has a stem count of 250 stems per inch. These products mate to themselves and work for the vast majority of customer applications in most industries.
There are times, however, when a customer might want a different level of force for fastener engagement or disengagement. For these situations, 3M offers other Dual Lock products that have a lower stem density (170 stems per square inch) or a higher density (400 stems per square inch). These products are almost always mated to a 250 stem count product and are never mated to themselves. Provided below is a table that shows you the engagement and disengagement force of these different combinations.
| | | |
| --- | --- | --- |
| Stem Density Combination | Engagement Force (Tensile) | Disengagement Force (Tensile) |
| 170 to 250 | 13 lbs/sq in | 27 lbs/sq in |
| 250 to 250 | 22 lbs/sq in | 43 lbs/sq in |
| 250 to 400 | 31 lbs/sq in | 60 lbs/sq in |
| Low Profile Dual Lock to Itself | 27 lbs/sq in | |
Tensile strength of different Dual Lock stem density combinations
---
APPLICATIONS
Interior Panel Attachments
– Passenger rail cars
– Buses
– Ambulances
– Marine vessels
– Elevators
Removable Access Panels
– Water and natural gas valves
– Electrical junctions
– Elevator control boxes
– Recessed lighting
Mobile Mounting
– Windshields
– Vehicle dashboards
– Electronics, sensors or trackers
– Motorcycle or RV accessories
Signage and Display
– Free-standing signage
– Kiosk assembly
– Point-of-sale system attachment
– Placards or retail price tags
---
Blog Articles About Dual Lock
SEE THIS PRODUCT IN PERSON
Industry Standards and Certifications
REACH & RoHS Compliant
CALIFORNIA PROP 65